Between the wealth of exceptional restaurants, thriving downtown, and overall genuinely kind citizens, there is much to love about the city of Sioux Falls. However, in my book, nothing quite compares to the world class Sioux Falls bike trail system. It is a place where residents and visitors alike can explore the city, get outside, and find peace in nature.
Circumnavigating the city, the Sioux Falls bike trail system encompasses nearly 30 scenic miles; connecting to most of the city's top attractions. Motivated individuals who set out to complete the bike trail loop can see Falls Park, Downtown Sioux Falls, the Outdoor Campus, and the Great Plains Zoo all in one fell swoop. Riding directly adjacent to the Big Sioux River, you will likely come across a few cautious deer, a scavenging hawk, a kayaker or two, and definitely a friendly face. Needless to say, the Sioux Falls bike trail is the perfect place to reconnect with nature, enjoy precious time together as a family, or train for your upcoming marathon.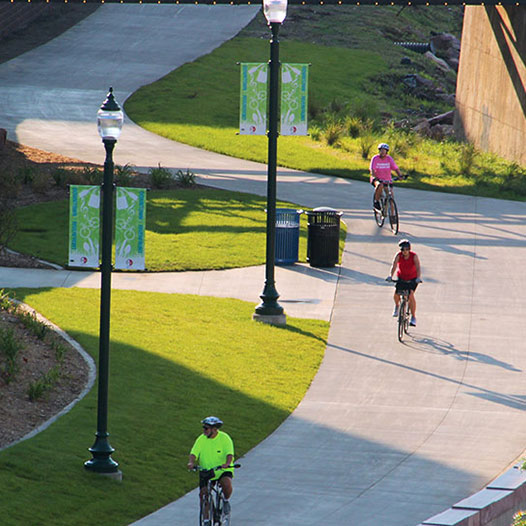 …make sure you come with a friendly smile and welcoming wave to share with passerbys — both a staple of the Sioux Falls bike trail system.
Growing up a quarter of a mile from the bike trail, I am lucky to say a good amount of my childhood was spent exploring the city via two wheels. I vividly remember spending hours outside with neighborhood friends racing around the tight bends while looking for the next dirt track that took us somewhere off the beaten path. Whether that was finding a unique alcove to explore or simply making it farther than we have ever been, every single day was new and exciting. Much to my parent's chagrin, I came home most days with grass stained shorts or a new bruise; however, my parents never feared for my safety as the trail is always well populated, monitored, and maintained. It's truly the ideal place to get kids of all ages away from the screen.
As I have grown older, I'm proud to say my affinity for the bike trail has yet to wane. Living on the southeast side of Sioux Falls and working downtown, I join my fellow bike enthusiasts and bike to work. Instead of spending 15-20 minutes in my car, I would leave an additional 5 minutes early and enjoy a peaceful bike ride that got me mentally ready for the day. It doesn't stop there. On weekends, I still feel drawn to the bike trail when I am looking to get in a few miles of cardio or take my dog for a leisurely walk. It is an amenity that gets better with each passing year and I am excited to continue to utilize it throughout my life.
The reasons above outline why I strongly believe our bike trail system is one of the best features this city has to offer (and, frankly, one of the best systems in the nation). If you are visiting Sioux Falls or are thinking about moving to our wonderful city, I implore you to spend some time on the bike trail. With all the natural beauty and friendly individuals, you will quickly find out it is a microcosm of our city. Just make sure you come with a friendly smile and welcoming wave to share with passerbys — both a staple of the Sioux Falls bike trail system.