Craft beer has become synonymous with community, quality, and exploration and the craft beer scene in Sioux Falls is no different. From local brewers and Brewers Row, to festivals and tastings, Sioux Falls has it all.
In the last few years, local breweries have dotted the landscape in Sioux Falls including Gandy Dancer Brew Works, Fernson Brewing Company, WoodGrain Brewing Company and Hydra Beer Company. Each brewery has a unique style and a neighborhood feel that both locals and tourists enjoy.
In addition to craft beer brewed in Sioux Falls, many establishments offer a rotating selection of national and international taps. Both JL Beers and Tap House 41 offer killer burgers and over 20 rotating selections on tap. BB's Pub N Grill has a great selection of local and national brands and hosts "BB's Beer School" on select Monday evenings for folks to increase their beer knowledge and expand their palate.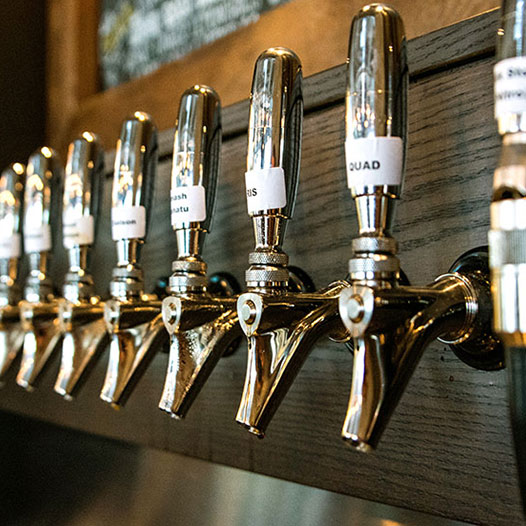 Sioux Falls is also home to many festivals and tastings featuring craft beer. . .
The East Bank area of Sioux Falls is home to Brewers Row, a collection of breweries and taprooms within walking distance of each other. Brewers Row starts at WoodGrain Brewing Company in the DocuTap Building on Phillips Avenue then heads to Prairie Berry East Bank where guests can enjoy beers exclusively from Miner Brewing Company, hand crafted in the Black Hills. Next you're off to South Dakota's original craft beer bar, Monks House of Ale Repute where beer drinkers can choose from in-house brewery Gandy Dancer or from their rotating collection of 39 taps. Your final stop on the tour ends at Fernson on 8th, a Fernson Brewing Co. taproom. And rumor has it that Remedy Brewing Company will be joining the East Bank family in 2017.
Sioux Falls is also home to many festivals and tastings featuring craft beer, the biggest of which include the Craft Beer Expo and Sioux Empire on Tap. Monks and Gandy Dancer Brew Works host two festivals per year, BeerVana and BrrrVana. And the summer kicks off each year with the 605 Summer Classic, a music festival featuring an all-South Dakota beer tasting.
With plenty of variety in style and location, there's bound to be something for everyone.