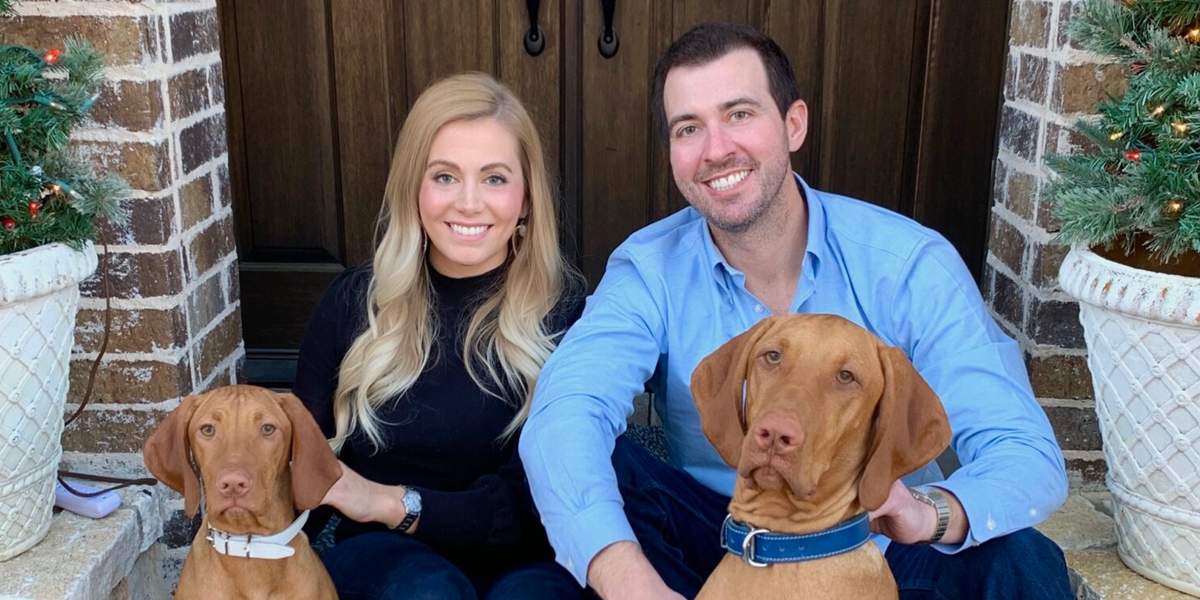 He's from Kansas; she's from Indiana.
They met in Dallas, Texas.
And as of the past few weeks, Sioux Falls has now become home.
"It really is a community," Preston Schraeder said. "We felt that even when we were visiting."
Preston and his wife, Sherree, discovered Sioux Falls through their friends Tyson and Nikki Ellenbecker.
"Tyson was one of my roommates in dental school at Creighton," Preston said. "And his family is based in South Dakota, and his uncle has been an owner in Southwestern Dental for about 20 years. Tyson had always said such great things about Sioux Falls, and then it became less joking about it and more thinking it was an option to move here."
Preston and Sherree Schraeder, and Nikki and Tyson Ellenbecker
As someone without a family history in dentistry, Preston had to grow his own practice. He followed college friends to Dallas, where he met Sherree, who works in medical equipment and supply distribution.
"I went to the University of Texas in Austin for college and didn't want to leave after graduation," she said. "I just loved it so much, the weather was great, and I had a job lined up after school, which took me to Dallas where I met Preston."
But after several years, they determined the Dallas area wasn't where they saw their future.
"We felt maybe there were better opportunities, specifically for Preston, outside of Dallas," Sherree said. "There were things that maybe weren't ideal long term as a place to plant our roots."
Still, "for us to finally come to the decision that Sioux Falls was a good place for us took a journey," she continued.
They visited with their good friends several times and got to know the Ellenbeckers' friends.
"With all the couples we're friends with, usually one person in the marriage is from here or went to college here and they're moving back," Sherree said.
"A lot of them are between 30 and 40 and starting families, and they've come back here for a reason, and they like it, and we like these people. So I feel like we're making a good decision. We're moving where we have friends, and they've created a small community around them, and all those people have been very welcoming and excited we're moving here."
The move solidified when Preston unexpectedly had the opportunity to purchase Riverview Dental, where he's now seeing patients at 2425 W. 57th St.
"My goal is to have a very traditional family practice," he said. "It has a great patient base already, and we were very lucky to retain almost every staff member. I walked in, and it was perfect, it was what I wanted to create, so it's nice to not have to go through the growing pains because it's here and ready to go."
As a medical hub, Sioux Falls becomes a natural fit for a wide variety of professionals, said Denise Guzzetta, vice president of talent and workforce development for the Sioux Falls Development Foundation.
"No matter what your career stage or specialty, you're going to find a fit here," she said.
"And for someone like Preston in dentistry, when you consider our growing population, the demand is going to be there. And for Sherree, whether she chooses to work remotely or locally, her skills are going to be in demand whenever she might want to consider her opportunities."
Sherree is still in the process of moving from Dallas and said her early impressions about life in Sioux Falls are positive.
"I was surprised by how many restaurants and boutiques are downtown," she said.
"I feel like every time we drive through, no matter what the temperature, people are outside walking around. And I don't think COVID has caused any places to shut down. It seems like it's alive and well, and that's really nice to see. It's a little smaller than Dallas, but I think there's a lot here and everyone really loves living here."
Preston agrees.
"It's amazing how courteous and kind people are," he said. "Texas is great and has Southern appeal, but it's also a big city, and people are moving in from everywhere, and sometimes you get a little lost. It's crazy traffic. You don't feel that here. But at the same time, we go downtown and there are great restaurants, and it really does provide."
For now, they're glad to have found an apartment and are house hunting in south Sioux Falls. Sherree anticipates it won't be long before their two dogs are making themselves at home on the city recreation trail.
"We lived near a walking path in Dallas and used it all the time, so I anticipate they'll be running around Sioux Falls in no time," she said. "We've been given really great recommendations. Everyone's suggestions have been so helpful, so it makes us feel right at home."
Are you looking to make a move to Sioux Falls? Email deniseg@siouxfalls.com or visit siouxfalls.com/work to get connected to opportunities in your field.